The Days of Elijah
February 11, 2018 – February 22, 2018
---
Stand where the fire fell and shout, "The Lord! He is God!"
Walk where Elijah ran from Jezebel.
Climb Mt. Horeb and enter the cave of Wind, Quake, and Fire.
Book Now
Highlights
Connector.

The Boulder of Bethshan

Chuckle from behind the boulder of Bethshan while the prophet faces the king into the ground. Search the Mediterranean for "a cloud the size of a man's hand." Run from Jezebel to refuge in Rehov and then huddle in the reeds of the Jordan.

Connector.

The Caves of Qumran

Stick your head inside a Qumran Cave." Any scrolls left?" Don't just glance up at Masada, like Elijah did. Take the cable car. Just outside Beersheba, lose yourself in the desert, and grab a nap under the nearest juniper tree.

Connector.

The Chariot of Fire

After you climb Mt. Sinai, go up to Jerusalem. Knock at the front gate of the royal palace, and deliver a letter to King Jehoram. In Jericho, try — Just you try! — to ditch Elisha before you get to that Chariot of Fire bus stop.
View Printable PDF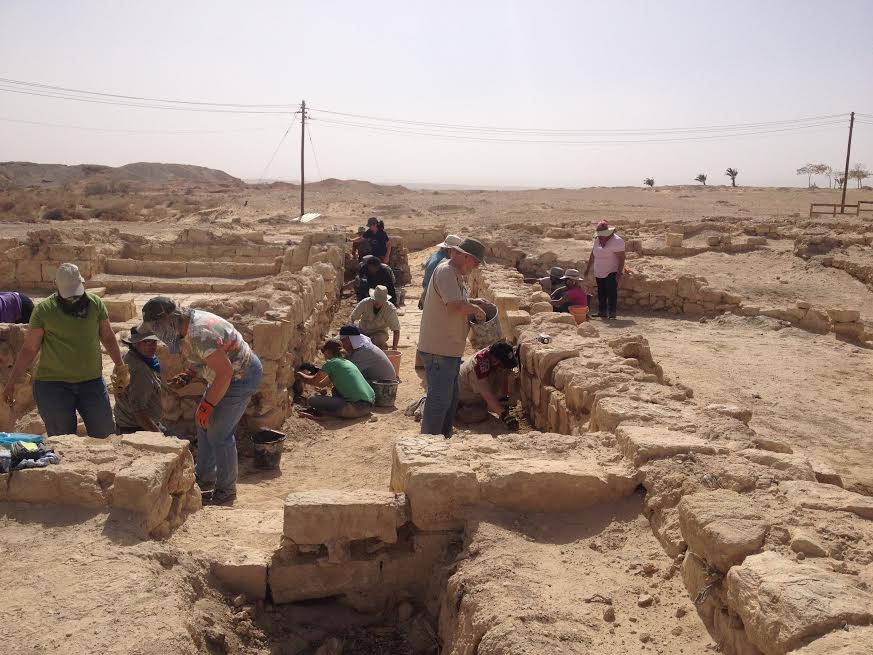 Volunteer Experience (Optional)
Everyone who registers for this trip is invited to extend his or her tour experience and become a "Volunteer" at Tamar after the tour. This low cost experience is available for up to a maximum of 90 days. Long term volunteers pay only $20 a day for board and room and short term volunteers, who stay less than 30 days, pay $30 a day. Volunteers are needed in various areas such as, horticulture, cooking, housekeeping, mechanical, carpentry, and beautifying the Park.
Volunteering is a unique and special way to bless the Israeli people and the Land, while being able to experience 5,000 years of history. Presenting this history, and how it relates to our Creator, is the reason Blossoming Rose continues to develop Biblical Tamar Park. We are very thankful for all our volunteers and donations that help make this all possible.
Tour Guides & Hosts
---
Our tours are led by knowledgeable guides and hosts and is one of the many things that make our tours exceptional. Each tour is a unique experience and all of our tours include a visit to Biblical Tamar Park and have the option to extend your stay as a volunteer.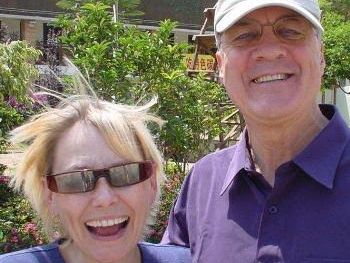 Dr. David Parks
Tour Host
---
Prof Parks's book A Regular Elijah blends the fantastic exploits and inner thoughts of the prophet with the geography and history of the Holy Land.
Professor Parks made his first trip to Israel in 1964 via Tunisia, Libya, Egypt, Lebanon, Jordan, and the Mandelbaum Gate.
In the 1980s he based at Tel Tamar while traveling from Dan to Beersheba doing field research for his doctoral dissertation on how tourists in Israel learn: Purposes, Motivations, and Learning Among Adults in an Overseas Study Tour.
He served as Operations Liaison for early Blossoming Rose tours.
In recent years, Professor and Mrs. Parks lectured in China at Tsinghua University and at Chongqing Technology and Business University.
---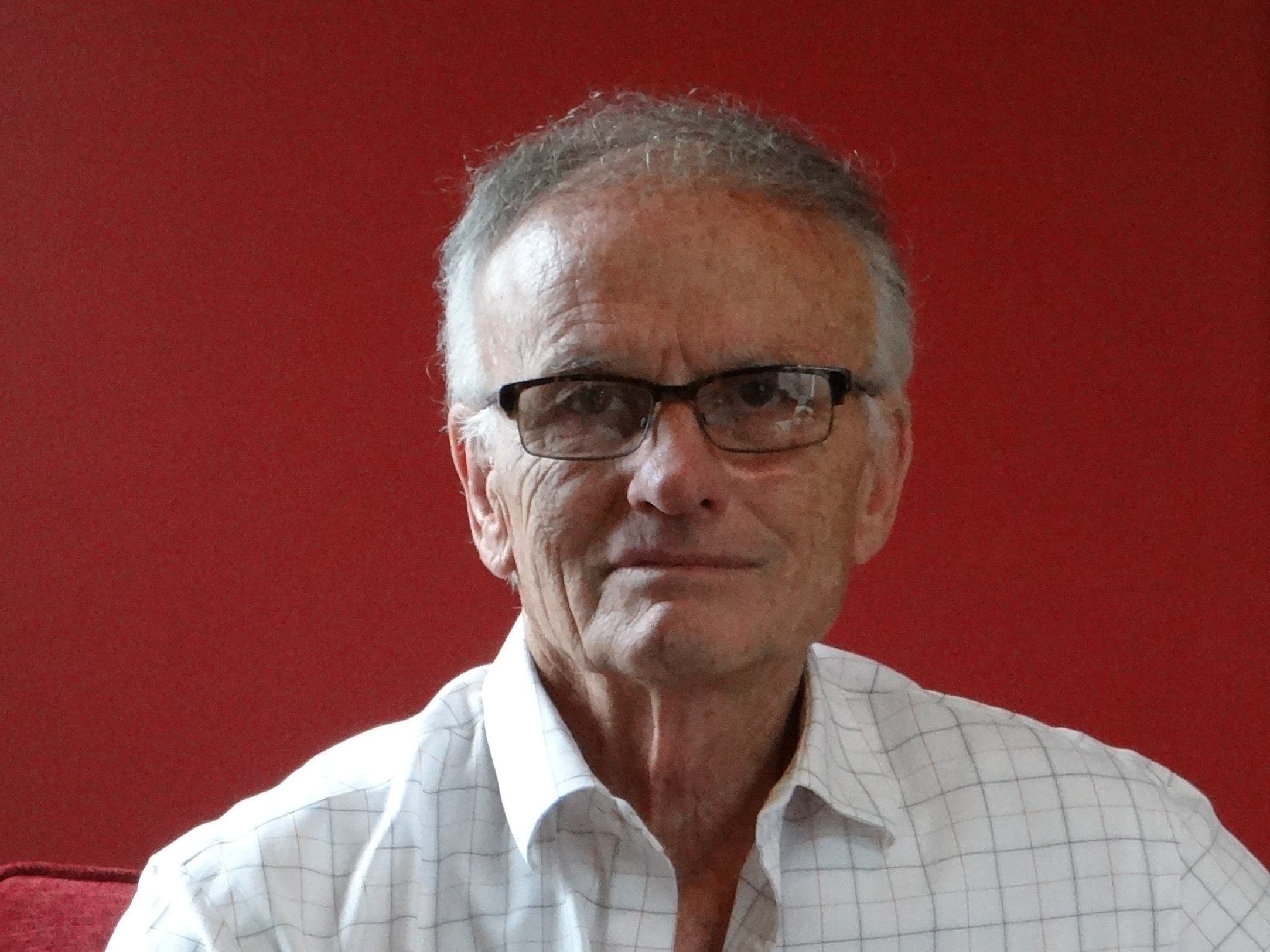 Dr. DeWayne Coxon
Tour Facilitator
---
DeWayne A. Coxon is the founder and President of Blossoming Rose. He received his Ph.D. from Michigan State University and served as a teacher, minister, college instructor/administrator from 1960 – 1984.  Shortly thereafter he founded Blossoming Rose, an organization whose mission is to bless Israel through various programs, including the maintenance and restoration of the 55 acre Biblical Tamar Park.  There is a five-acre archaeology site at the Park, of which Blossoming Rose is curator.  Dr. Coxon has been in Israel for a cumulative seven years.  His knowledge of Jewish, Christian and Muslim history gives him a unique perspective on the Middle East.  He is the author of three books.
---
The Days of Elijah Itinerary
Day 1
---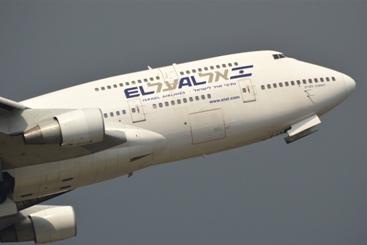 ---
---
Right in line with international regulations, we arrive at our airport gate three hours prior to departure, pass security inspection, and board our flight.
We move our watch ahead to Jerusalem Time, and our plane carries us through the night to Ben Gurion Airport, Tel Aviv, Israel.
We drift off to sleep on the plane while humming "These are the days of Elijah declaring the word of the Lord!"
Day 2
---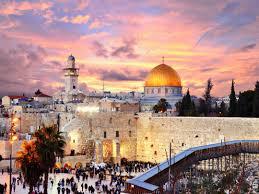 ---
---
We land at Ben Gurion in the early afternoon and at 5 pm board our charter bus to climb 2,600 feet from the Mediterranean coastal plain up into the mountains of Jerusalem.
On the Mount of Olives, we pause for a breathtaking view of the Temple Mount under the setting sun. Then straight to our Leonardo Hotel and a delicious dinner.
We stroll leisurely through the Jaffa Gate into the Old City of Jerusalem. As the evening comes to life, we gather at the Western Wall of the Temple where Joseph and Mary presented baby Jesus.
Back at the hotel, some of us look at Elijah's letter of bad news to Jerusalem's King Jehoram and discuss the modern medical diagnoses.
In the luxury of Jerusalem's Leonardo Hotel, on our way into sleep, we thank God for his personal love and protection.
Day 3
---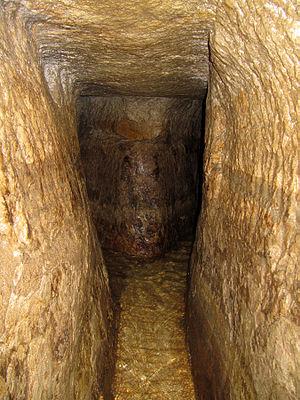 ---
---
Palace Gate, City of David, Tombs of the Kings, Hezekiah's Tunnel, Pool of Siloam, Temple Mount, Western Wall Tunnels, the Spirit and Power of Elijah
We search for the palace gate where Elijah sent his letter to King Jehoram. At the City of David — ancient heart of Jerusalem — we see the Tombs of the Kings where the people declared, "Don't bury him here!"
Some of us wade through the flowing waters of King Hezekiah's tunnel, which Jesus called the Pool of Siloam.
On the Temple Mount we examine remains from the time of Jesus. Exploring the Western Wall Tunnels, we see the closest approach to the Holy of Holies, where the angel told Zecharias his wife was about to say, "Honey, we're pregnant!" And their baby would "go before the Lord in the spirit and power of Elijah."
At dinner, someone pipes up with, "So, what would you tell an angel who says you're about to become a daddy?"
In the Leonardo we dream of Jesus making mud with his spit, putting it on a man's eyes, and telling him to wash in the Pool of Siloam.
Day 4
---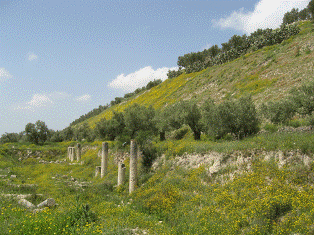 ---
---
Beside a small hill just outside the city of Samaria, we search for fifty piles of soot. Nope. But several hairs by a boulder obviously fell from Elijah's goatskin.
Inside the ancient city of Samaria we ask in vain for relatives of King Ahab.
At Gilgal we find Elijah and Elisha sitting on Joshua's twelve stones. We follow their gaze over to Mount Gerizim and Mount Ebal and imagine the chant of the Blessings & the Cursings. We cringe at the thought of a mass circumcision, and our jaws drop at Samuel hewing King Agag in pieces.
Elijah: "Wait for me here."
Elisha: "Not leaving your side, Boss."
In Bethel we find this same pair standing under the tree where Deborah is buried, just around the corner from the house of Phinehas — who kept the Ark of the Covenant — and a strong stone's throw from Jeroboam's golden calf.
Elijah: "Take a nap on Jacob's pillow. Dream of a ladder to heaven."
Elisha: "Not leaving your side, Boss."
After dinner, we notice three people discussing what kind of skid marks would be left by a chariot of fire, five planning an Elijah search party, and two debating the ethics of God turning 100 soldiers into cinders.
In our third night in the Jerusalem Leonardo Hotel we drift off to sleep wondering, "What did Jacob say when he tried to fluff up his pillow?"
Day 5
---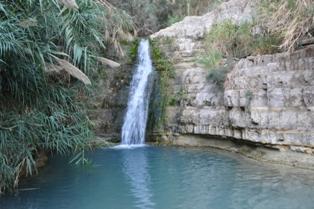 ---
---
Early in the morning, we visit the Garden Tomb and remember Mary Magdalene bending down to look inside.
Then we drive down the Jericho Road, waving at the Good Samaritan. In Jericho, our bus parks under an ancient Sycamore tree, but Zacchaeus is gone for the day. We marvel at the tumbled remains of the walls.
Elijah: "Wait here. God's telling me to cross Jordan."
Elisha: (as we sing along) "You won't have to cross Jordan alone!" Boss.
Five Free Methodists teach us a line from Charles Wesley:
I then rode on the sky, freely justified I,
Nor did envy Elijah his seat.
My soul mounted higher in a chariot of fire,
And the moon it was under my feet.
Our guide points across the River to the little village of Bethany, where Jesus stood in line to be baptized by John, "in the spirit and power of Elijah."
Qumran:  Dozens of caves dot these bluffs, but Elijah and his helper took no notice. At Wadi Murabba'at, where 1,000 years later scholars would hide jars and jars of sacred scrolls in its caves, they walked right by.
Little Ira never dreamed that in 1946 a boy about his age would be looking for his goats, toss in a pebble, and hear it break one of those jars. Or that he would take seven scrolls home and hang them on a tent pole for his cousins.
As we toss in pebbles, our little band of wandering Free Methodists sings:
Ancient words ever true
Changing me and changing you
We have come with open heart
Oh let the ancient words impart
At Ein Gedi, the largest oasis along the western shore of the Dead Sea, we stick our toes into a pool where David stopped Abishai's spear from pinning King Saul to the ground, where Chedorlaomer carried off Lot, but Abraham's 318 men grabbed him back again, and where Elijah may have paused to drink and bathe.
At the southern border of Ezekiel's Israel we move into our rooms at Biblical Tamar Park and then dig into a delicious Kosher American dinner.
By the open fire in the Sukkah, the Elijah Search Party is designing a shingle to hang at the door:  "Elijah Stepped Here."
In the quiet of the Arava night, we dream of hundreds of clay jars stacked on our kitchen counter.
Day 6
---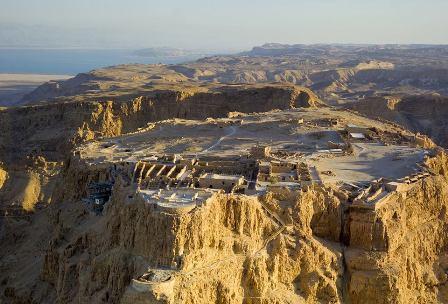 ---
---
Biblical Tamar Park Mini-Tour, Arad Intersection, Climb Masada, Dead Sea Swim, Scorpion's Pass, Mt. Hor, Miriam's Spring
Did Elijah visit Tamar? As our guide walks us step-by-step through the seven historical periods of Biblical Tamar Park, he shows how Elijah could have walked here in 874 BC.
When Elijah turned at the Arad intersection, he may have glanced up at Masada, but not until 800 years later did Alexander Jannaeus begin to fortify this mesa. We inspect Masada's "synagogue without walls," look down on Roman encampments, and wander freely on this huge fortress, listening to a few of its stories.
Ever since we left Jericho, the Judean Plateau has been shouldering us over toward the Dead Sea. Finally, at a public beach 1,412 feet below sea level, we get our chance to float in all that salt.
From Scorpion's Pass we spot where Aaron was buried on Mt. Hor, a few miles from Biblical Tamar Park. Near the park we stop at a grove of flourishing date palms surrounding Miriam's Spring.
Dinner is luscious, and in the sukkah we promote our pet theories:
That night at Ein Gedi, should David have let King Saul live?

Josephus — Traitor or true? Fabulist or historian?
As we head over to our rooms, we glance up at the dome of stars and quote the poet of the Arava:
"The sun goes down, and the sky is ours."
We sleep peacefully on this, our second night under the stars of the Arava.
Day 7
---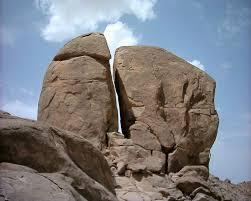 ---
---
Mt. Yeroham, Har Karkom, Kibbutz of Prime Minister David Ben Gurion, Mitzpe Ramon, Moshav Paran
We awaken in the stillness of the Arava and find the sun rising over the mountains of Jordan.
Where did Elijah go when he hiked to Mt. Horeb?
For centuries, inquiring feet have searched for the mysterious mountain where God demanded, "What are you doing here?" We all want to stand where the prophet watched Wind, Earthquake, and Fire. So we go to look at two sites, and along the way we pause to enjoy a kibbutz, a canyon, and a moshav.
At Yeroham, we see the mountain which Professor Aardsma proposes is Mt. Sinai — based on its distance from Egypt and Midian, roominess and water supply, pottery shards and geologic period. We stop at Prime Minister David Ben Gurion's Kibbutz Sde Boker. In 1964, we shook hands with Mr. Ben Gurion at his gate, but today we might not find him home. Next the Mitzpe Ramon Crater, the Grand Canyon of Israel. At Har Karkom we see the mountain which Professor Emmanuel Anati proclaims as Sinai and to which he says the Vatican is organizing pilgrimages.
We stop at Paran Moshav to get a feel for the location of Petra, right across the border. Scholars who identify Petra as Mt. Sinai point out that it sits in the Valley of Moses with the Spring of Moses bubbling at the entrance where Moses struck with his rod. So we gaze across a border closed to us and maybe feel a bit for Moses, who looked over at Jericho but heard the Lord say, "Not for you."
Little groups all over the bus are talking about how to get visas, so they can jump on the tour that visits potential Mt. Sinais in Egypt (Hashem el-Tarif & Jabal Mousa) Jordan (Petra) and Saudi Arabia (Jabal al-Lawz).
We sleep peacefully during our third night in the quiet of the Arava.
Day 8
---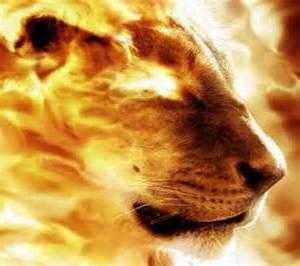 ---
---
Beersheba, Netanya, Caesarea Maritima, Mount Carmel, Elijah's Caves, Megiddo, Tiberias on the Sea of Galilee
When Elijah was running from Jezebel, he left his servant in Beersheba, where Abraham gave Abimelech seven ewe lambs to settle a misunderstanding about a well. But a city of 360,000 has swallowed up that one-horse village. Elijah would get lost in three minutes. On the way out of town, we press our noses to the bus windows, but no one spots Elijah dozing under a Juniper tree.
Up to Tel Aviv and then north along the beach to the modern city of Netanya. In 1929, five settlers put shovels in the sand, and now over 200,000 call this home. At Caesarea Maritima, Governor Felix shut Paul in prison.
On Mt. Carmel we watch those miserable prophets of Baal: No fire. No answer. No god. Then Elijah: "Lord, let people know …." And the fire fell. The fire of the Lord. We look out over the sea and yell, "A cloud! The size of a man's hand!"
Elijah's cave? It's a fun ride up the cable car and then a great view of the sea. Inside the Stella Maris Church we find a cave tucked under the altar. At Megiddo we see how this strategic pass cuts into the Jezreel Valley, and we start to understand why so many armies fought here.
In Tiberias we settle into our comfy rooms in the Club Leonardo Hotel, sneaking looks across the Sea of Galilee at the bluffs of the Golan.
In our Leonardo on the Galilee, we dream of Elijah plodding along at the foot of the Golan bluffs. "Look out! Queen Jezebel's spies are trying to head you off at the pass!"
Day 9
---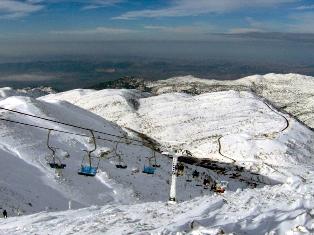 ---
---
Sea of Galilee, Metula, Caesarea Phillipi, Tel Dan, Hula Basin, Upper Jordan River, Banias River, Mt. Hermon, Mount of Beatitudes, Capernaum, Galilee Boat Ride
On the eastern shore of the Sea of Galilee, we find Elijah's tracks coming from the Brook Kerith. We glance up at the bluffs of the Golan and then follow the North Jordan River up through the Hula Basin to the tiny Banias River and Dan (of "Dan to Beersheba").
Where Elijah's trail to Zarephath crosses into Lebanon, we turn aside to Caesarea Philippi. Here Peter told Jesus, "You're the Messiah!" We climb beautiful Mt. Hermon. Is this the Mount of Transfiguration, where Peter, James, and John saw Jesus talking with Moses and Elijah?
We enter Capernaum — where Jesus healed Peter's mother-in-law — and we pause to touch the stones of a Third Century synagogue built over one from the First Century.
On the nearby Mount of Beatitudes, we recite: "Blessed are the meek…blessed are the poor in spirit…Blessed are the pure in heart…" Before dinner we take a boat ride out into the Sea of Galilee.
On our second night at the Sea of Galilee, we continue to recite:  "Blessed are those who mourn…Blessed are those who hunger and thirst after righteousness…."
Day 10
---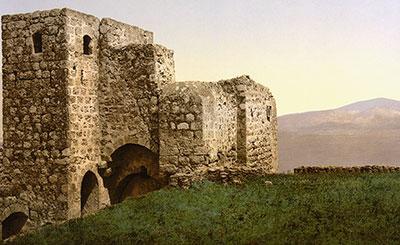 ---
---
Jezreel City, Mt. of Transfiguration, Mt. Tabor, Endor, Mt. Gilboa, Beitshan, Tel Rehov, Brook Kerith, Jezreel Valley Railway, Abel Meholah, Tishbe
At Tel Jezreel we rub the stones and feel the fort which guards the approach from the sea. We drink from the spring where Elijah told King Ahab, "Neither dew nor rain!" We kick the dirt where dogs licked up Ahab's blood and devoured the flesh of Jezebel, where officials stacked the 70 heads of Ahab's children in two piles.
Up on Tabor, we ask if Jesus might have preferred to bring Peter, James and John up this smaller peak instead of slogging through the snow of Mt. Hermon before the Israelis installed their ski lift. We see how the Franciscans enlarged on Peter's plan of cabins for Jesus, Moses, and Elijah, so we look inside their Church of the Transfiguration. Out in the parking lot again, we recall Jesus' caution: "Elijah got no hero's welcome, and neither does the Messiah."
Just to the north we find Kibbutz Ein Dor and the village of Endor, both named for the Witch of Endor, who called Samuel from the grave to tell King Saul, "Tomorrow you will be with me." Then on Mt. Gilboa, where the Philistines killed Saul and Jonathan, we listen to David's poem, "The beauty of Israel is slain."
We cross due east to ancient Beit She'an, where Obadiah searched for grass and found Elijah. In seven minutes we're at Rehov, where Elijah may have rested overnight on his flight from Jezebel. We glance east across the Jordan River into Gilead for a glimpse of Tishbe, Elijah's hometown and for the Brook Kerith, where ravens brought Elijah bread and meat. Just to our south we see Abel Meholah — "Dancing Meadow" — where Elijah tossed Elisha his cloak. At nearby Adam the river backed up for Joshua.
On the way back to our hotel, we wave once more to the engineer on the historic Jezreel Valley Railway. Yes! It's so good to kick off our shoes in our Leonardo Club Hotel room by the Sea of Galilee! Some of us swim. Some discuss Elisha's going-away party.
As we fall into sleep our third night by the Sea of Galilee, we hear Elijah telling King Ahab, "Neither dew nor rain."
Day 11
---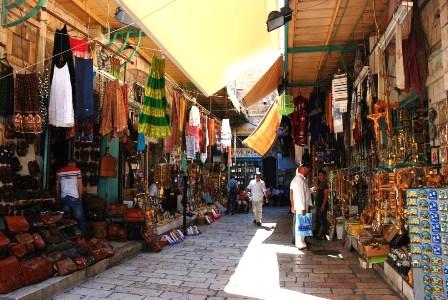 ---
Via Dolorosa, Church of the Holy Sepulcher, Jewish Quarter, Herodian Quarter, Ben Gurion Airport
In Jerusalem we stroll along the Way of Sorrows, where Jesus may have walked to his crucifixion. Some of us sing softly with Sandy Patty, "Down the Via Dolorosa in Jerusalem that day, the soldiers tried to clear the narrow street." Some of us stop to pray or meditate at the 14 stations of the cross.
In Jerusalem we stroll along the Way of Sorrows, where Jesus may have walked to his crucifixion. Some of us sing softly with Sandy Patty, "Down the Via Dolorosa in Jerusalem that day, the soldiers tried to clear the narrow street." Some of us stop to pray or meditate at the 14 stations of the cross.
We find the final stations inside the Church of the Holy Sepulcher that Emperor Constantine built about 325 over the locations his mother believed Jesus was crucified, buried, and resurrected.
In the Jewish Quarter we are drawn to luxurious homes from the time Herod's step daughter demanded, "the head of John the Baptist on a platter!"
At 6:30 pm, we step onto our bus to Ben Gurion Airport.
At the back of the bus, a group discusses what Jesus meant by, "If you will, John the Baptist is Elijah." Does this mean King Herod beheaded the re-incarnate Elijah? At the airport we board our return flight.
As we approach the Rock of Gibraltar, we stand in the aisle with nearby passengers and sing, "Jerusalem! Jerusalem! Lift up your gates and sing!" Then we sleep and let our the airplane carry us toward home.
---
Day 12
---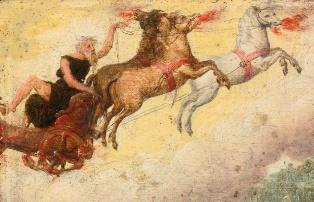 ---
---
Our international flight lands us at a major airport back in our home country.
We connect to a local flight that takes us closer to home.
On the plane we dream of Elijah rising into the sky in a chariot of fire.
Tour Dates:
February 11 – 22, 2018
Price:
$2,395 (airfare not included)+$100 for tips and gratuities
Tours Include:
Hotels
Breakfast
Dinner (except the 21st)
National Park Pass
Gondola at Masada
Galilee Boat
All listed sites that we visit
Bus transfer to and from Ben Gurion Airport
Not Included:
Jericho Excavation
Lunches
Airline Ticket
Flight insurance
Tips