Several years ago we made a choice to develop Biblical Tamar Park around a historic chronological theme with each of the seven periods set within the 55 acres of the Park. Each site would be identified by a certain period of time as well as with a building or a display. The Abrahamic Historical Site was first and the plan was to purchase a Bedouin tent for the display. The task of finding a locally made, hand-woven tent, proved to be quite a task. We searched for a couple years.
We did locate replicas of the Bedouin tent, one made in Turkey, but it was very expensive. Finally, this fall, Mohammad, our neighbor, found an original tent, woven by the local Bedouin women from goat's hair. It is beautiful, but very old and in need of repairs by experienced seamstresses.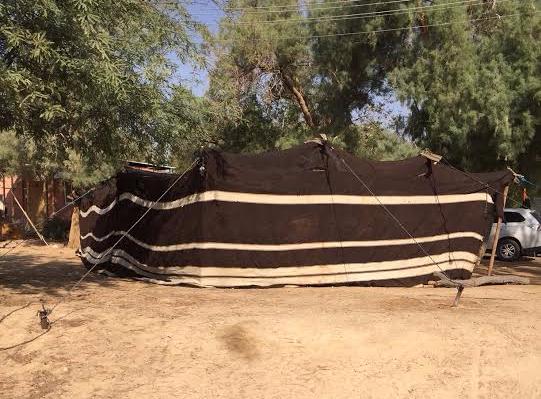 The tent will be repaired and installed in February close to the Moses display that houses the Tabernacle. We expect the entire site to be completed in early 2017 and are thankful for the Abrahamic Site Sponsors, Chris and Ann Barnes, as well as a generous donation from one of our Education Committee members, Victoria Brogdon. The tent will need to be furnished with certain types of carpets and stools used during the time of Abraham.